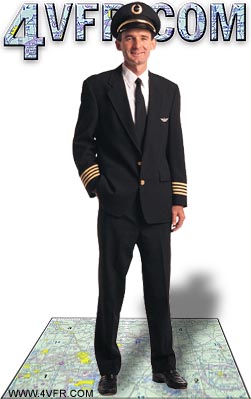 We Help You Pass
Our free online study guide really works. You can study for your FAA private pilot ground school exam right now. For more info about the 4VFR.COM project, click here. You can find a daily update log here.

Live ATC Audio Streams
Tune into live air traffic control frequencies from North America. This feature requires Real player. Start listening to ATC now!

Reference Library
Our glossary lists and databases have grown quickly. I am working to create an on-line reference library to tie together all the loose ends. You can check out what is currently available in the library

FAA Practice Exam - New!
Introducing our newly enhanced practice exam. Now with figures!. Take a test a day for a week, and I guarantee you will do better on your exam. Get Started Now!

Show your support for 4VFR.COM - Link us. Bookmark us. Tell your mother about us. Press CTRL-D to bookmark this site now!. Check out one of our proposed T-Shirt Designs.

Feature Article: Why We Sit On The Left

Behind many of the things we do in flying lies a long history. This often dates well before flying. Have you ever wondered why left patterns are standard? Before airplanes and cars, men rode horses. Most people are right handed. As a matter of good practice weapons were carried on the right side and kept available to the right hand. Since it was always desirable to keep the right hand and weapon available, horses were mounted from the left side. using the left hand for lift by pulling on the saddle horn. To keep the right hand free from attack on the narrow roads of England they rode on the left side of the track. This forced an attacker to cross an open space. This also kept the right hand available for for attack or defense against oncoming travelers. I have not yet found the logic for why the Americans drive on the right side.

By happenstance, the military cavalry was the least dogmatic of the services in all countries. When the military adopted the airplane, the cavalry was the natural choice for pilot selection. The cavalry looked upon the airplane as another mode of transportation like the horse. Best to be mounted from the left as by habit. Early cavalrymen nee' pilots were even required to wear spurs. Did I really say the least dogmatic of the services?

You will need to search old film very hard to see an old time aircraft being mounted from the right by the pilot. I have never seen such. In fact, most passengers mounted from the left. When aircraft were designed for side by side seating, the pilot in command (captain) sat on the left. The preferred pattern direction was left because that gave the pilot better visibility. By convention the standard traffic pattern is now to the left.