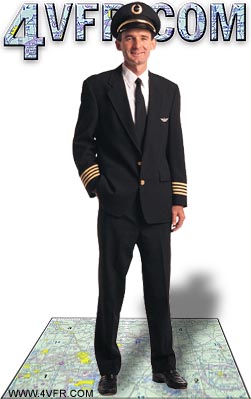 We Help You Pass
Our free online study guide really works. You can study for your FAA private pilot ground school exam right now. For more info about the 4VFR.COM project, click here. You can find a daily update log here.

Live ATC Audio Streams
Tune into live air traffic control frequencies from North America. This feature requires Real player. Start listening to ATC now!

Reference Library
Our glossary lists and databases have grown quickly. I am working to create an on-line reference library to tie together all the loose ends. You can check out what is currently available in the library

FAA Practice Exam - New!
Introducing our newly enhanced practice exam. Now with figures!. Take a test a day for a week, and I guarantee you will do better on your exam. Get Started Now!

Show your support for 4VFR.COM - Link us. Bookmark us. Tell your mother about us. Press CTRL-D to bookmark this site now!. Check out one of our proposed T-Shirt Designs.

Feature Article: Time For First Solo

This method to safely soloing a student puts the burden on the student. It is not the way I do it but it is worth considering. The instructor expects the student to say when he is ready. An addendum to this technique is for the instructor to then require the student to taxi out for one more takeoff and landing. The idea is to see how the student now performs knowing that the next time he will be alone. By performing well the student acquires a very necessary bit of extra confidence.

Another technique is the ex-military in which the instructor starts out screaming from the get go a continuous stream of threats to fail. At the last moment the CFI demands a full stop to as to escape from certain death. The CFI gets out while saying that you'll do all right. Apparently, the idea is to make you fly under pressure that is supposed to develop the necessary confidence for a successful solo flight.

Related Links
Featured Articles
Student Kudos
"Hey Thanks! This is the best online practice test I have tried so far. Nice interface, accurate, easy to view and load, nicely done. And I love the email feature! I only wish I had found this site earlier, instead of 12 hours before my exam!!"
- Kerri DeVault