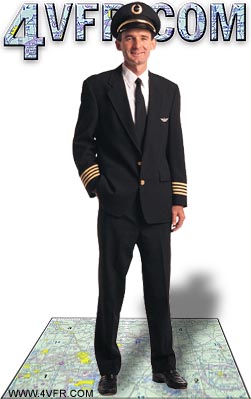 We Help You Pass
Our free online study guide really works. You can study for your FAA private pilot ground school exam right now. For more info about the 4VFR.COM project, click here. You can find a daily update log here.

Live ATC Audio Streams
Tune into live air traffic control frequencies from North America. This feature requires Real player. Start listening to ATC now!

Reference Library
Our glossary lists and databases have grown quickly. I am working to create an on-line reference library to tie together all the loose ends. You can check out what is currently available in the library

FAA Practice Exam - New!
Introducing our newly enhanced practice exam. Now with figures!. Take a test a day for a week, and I guarantee you will do better on your exam. Get Started Now!

Show your support for 4VFR.COM - Link us. Bookmark us. Tell your mother about us. Press CTRL-D to bookmark this site now!. Check out one of our proposed T-Shirt Designs.

Feature Article: Bits and Pieces
Tolerance to lack of oxygen decreases proportionately with age.

Patience is one of the prime virtues of piloting.

Lemon Pledge furniture polish causes water to run off windows.

To secure an aircraft against severe wind damage: put tree branch on top of wing, deflate tires, park
truck on windward side, fill tanks.

By the time you are 60 you will need three times as much light to perform a task as you did at 20.

A 30 degree bank causes 1.15 Gs

A 45 degree bank increases stall speed 20 percent

A 60 degree bank increases stall speed by 40 percent

Half of midairs happen below 500 feet and 75 percent occur below 3000 feet.

81 percent of 'incursions' are essentially non-events.

Engine loses 3 percent of power for every 1000 feet of altitude

In four year period ending with 2000 over 1300 incursions were reported with three minor accidents.

By the age sixty you will need three times the light to see by as you did at 20.

Maturity comes to some earlier than others but to all survivors given enough time.

Love maintains enthusiasm and youth in those who love.

Getting older is a worthwhile process when you consider that dying younger is the alternative.

Your alternative to becoming an old pilot is being a statistic.

Your job is what you do, not who you are.

Problems can be managed by anticipation of a situation's options.

In advisory communications the aircraft type is more important than the call sign.

Use radio to call the turns in an uncontrolled airport pattern is best aid for visual location of position.

Stopping to talk to pilots is an excellent way to get ideas and incidental knowledge

Beware of pilots who exaggerate their capabilities and experiences.

Going to places were planes and pilots congregate is the best part of flying.