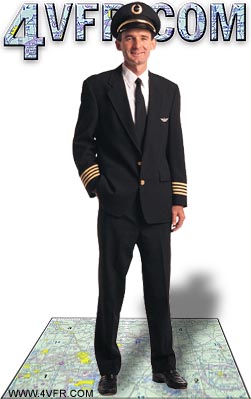 We Help You Pass
Our free online study guide really works. You can study for your FAA private pilot ground school exam right now. For more info about the 4VFR.COM project, click here. You can find a daily update log here.

Live ATC Audio Streams
Tune into live air traffic control frequencies from North America. This feature requires Real player. Start listening to ATC now!

Reference Library
Our glossary lists and databases have grown quickly. I am working to create an on-line reference library to tie together all the loose ends. You can check out what is currently available in the library

FAA Practice Exam - New!
Introducing our newly enhanced practice exam. Now with figures!. Take a test a day for a week, and I guarantee you will do better on your exam. Get Started Now!

Show your support for 4VFR.COM - Link us. Bookmark us. Tell your mother about us. Press CTRL-D to bookmark this site now!. Check out one of our proposed T-Shirt Designs.

Feature Article: Short, Soft, and Rough Takeoff

Use the recommended flap setting either prior to takeoff or after reaching 30-40 knots. The idea is to get clear of the ground as soon as possible and utilize the reduced induced drag by staying as close to the ground as possible until reaching Vx or Vy as required.

This is takeoff is like a combination dinner order. A bit of everything and not too much of anything. We may compromise on the amount of flaps used, we compromise on how high to hold the nose, and we compromise the performance figures between Vx and Vy and everywhere else. It is worth noting that loading to the rear C.G. limit will get us into the air sooner but with a compromise in control sensitivity. If an obstacle is present blend your combination toward short field performance.
Once airborne fly direct to the obstacle. If you are above the best angle of climb speed you can then fly Vx with some assurance of passing above the obstacle. Visually, if you can see more and more of terrain over the top of the obstacle you are higher than the obstacle. If not Vx chop it and drop it. Given two poor choices, it is better to hit something on the ground while slowing down that anything while flying.