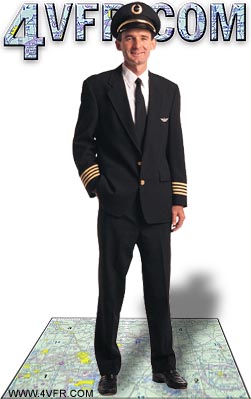 We Help You Pass
Our free online study guide really works. You can study for your FAA private pilot ground school exam right now. For more info about the 4VFR.COM project, click here. You can find a daily update log here.

Live ATC Audio Streams
Tune into live air traffic control frequencies from North America. This feature requires Real player. Start listening to ATC now!

Reference Library
Our glossary lists and databases have grown quickly. I am working to create an on-line reference library to tie together all the loose ends. You can check out what is currently available in the library

FAA Practice Exam - New!
Introducing our newly enhanced practice exam. Now with figures!. Take a test a day for a week, and I guarantee you will do better on your exam. Get Started Now!

Show your support for 4VFR.COM - Link us. Bookmark us. Tell your mother about us. Press CTRL-D to bookmark this site now!. Check out one of our proposed T-Shirt Designs.

Feature Article: Maintenance Records

The owner/operator is responsible for all required maintenance, inspections and logbook entries on an aircraft. FAR 43 gives entry examples of 'appropriate" entries. This includes compliance with the FARs such as FAR 91.403(a) and FAR 91.405. 91.405 requires maintenance sufficient to keep aircraft airworthy. The owner-operator must retain the log books, be responsible that proper entries are made, and be able to make them available to authorities.

All records of maintenance and inspections require that entries say what has been done, the date of completion, signature and certification of the one doing the work and sign-off. A proper sign-off applies only to the work done. An inspection does not make the aircraft airworthy. An aircraft is airworthy only when work specified in the inspection as being required is completed and signed-off.

FAR 91.213(d)(2) covers inoperative equipment. This requires that any inoperative instrument or equipment have a signed placard FAR 43.11 as well as logbook entries regarding the action taking. Approval for return to service is required. Maintenance is the owner/operator responsibility; airworthiness is the pilot's.

FAR 91.7(b) "The pilot in command of a civil aircraft is responsible for determining whether the aircraft is in a condition for safe flight." If anything untoward happens the FAA gets to second-guess the pilot's decision. The regulations on maintenance and inspections are in FAR 91.403(a) and 91.405. 91.3 states: "The pilot in command of an aircraft is directly responsible for, and is the final authority as to, the operation of that aircraft. Again, if anything untoward happens the FAA gets to second-guess the pilot's decision. The PIC determines airworthiness in the preflight, review of paperwork and checking aircraft maintenance records. The aircraft must meet and continue to meet it original type design data unless approved changes are made.