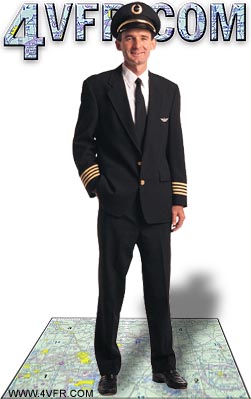 We Help You Pass
Our free online study guide really works. You can study for your FAA private pilot ground school exam right now. For more info about the 4VFR.COM project, click here. You can find a daily update log here.

Live ATC Audio Streams
Tune into live air traffic control frequencies from North America. This feature requires Real player. Start listening to ATC now!

Reference Library
Our glossary lists and databases have grown quickly. I am working to create an on-line reference library to tie together all the loose ends. You can check out what is currently available in the library

FAA Practice Exam - New!
Introducing our newly enhanced practice exam. Now with figures!. Take a test a day for a week, and I guarantee you will do better on your exam. Get Started Now!

Show your support for 4VFR.COM - Link us. Bookmark us. Tell your mother about us. Press CTRL-D to bookmark this site now!. Check out one of our proposed T-Shirt Designs.

Feature Article: Command Authority

FAR 91.3: "The pilot-in-command of an aircraft is directly responsible for, and is the final authority as to, the operation of that aircraft...." In an emergency you can break any rule to the extent required to meet that emergency. However, the FAA reserves the right to second guess anything a pilot does. As a pilot you should not allow anyone or anything to determine what you consider necessary for safe flight operations. ATC runs the system for its convenience. As a PIC you must learn to use the system and abide by it operational procedures until they affect the safety of your aircraft. Until you declare an emergency you must obey ATC.

Command authority carries with it liability. Liability as a flight instructor comes from both the FAA and civil authority. The FAA looks at FAR violations as the PIC the instructor is responsible for the aircraft. The civil aspect relates to negligence. A flight instructor need not be giving instruction, just being on the aircraft and contributing to carelessness. A flight instructor is held to a higher level or care and a higher level of liability. Circumstances and common sense control each situation. Flight instructor liability exists in and out of the aircraft before, during, and even after instruction has been given.. The instructor is in charge of student flights. Flight instructor liability insurance is available through the AOPA Insurance Agency at (800)622-2672

CFI does not require a medical if he does not function as required crew member or P:IC. Time can be logged as PIC and any payment is legal.
Related Links
Featured Articles
Student Kudos
"Hey Thanks! This is the best online practice test I have tried so far. Nice interface, accurate, easy to view and load, nicely done. And I love the email feature! I only wish I had found this site earlier, instead of 12 hours before my exam!!"
- Kerri DeVault