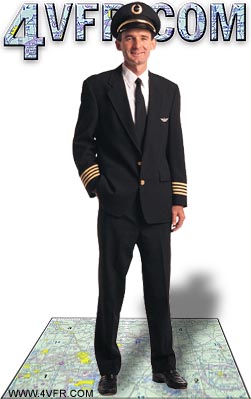 We Help You Pass
Our free online study guide really works. You can study for your FAA private pilot ground school exam right now. For more info about the 4VFR.COM project, click here. You can find a daily update log here.

Live ATC Audio Streams
Tune into live air traffic control frequencies from North America. This feature requires Real player. Start listening to ATC now!

Reference Library
Our glossary lists and databases have grown quickly. I am working to create an on-line reference library to tie together all the loose ends. You can check out what is currently available in the library

FAA Practice Exam - New!
Introducing our newly enhanced practice exam. Now with figures!. Take a test a day for a week, and I guarantee you will do better on your exam. Get Started Now!

Show your support for 4VFR.COM - Link us. Bookmark us. Tell your mother about us. Press CTRL-D to bookmark this site now!. Check out one of our proposed T-Shirt Designs.

Feature Article: Nutrition

Food when converted into glucose is the source of brain energy. Glucose cannot be stored. As blood sugar it requires constant renewal. If glucose is not renewed the body and the mind shows evidence of fatigue, mental confusion, faintness, headache, memory loss, dizziness, vision problem, cold hands and feet.

Reduced blood pressure, tension, depression and hunger are all symptoms of hypoglycemia. This can be caused by the lack of a balanced meal within the past five hours. Ten hours without food will severely affect decision-making ability, alertness, coordination, and perception. Skipping breakfast causes fasting hypoglycemia. All hypoglycemia types can be aggravated by other physiological factors.

Altitude can incapacitate a pilot through dehydration. Increase your fluid intake prior to and during flight. What you eat is just as important as just eating. Reactive hypoglycemia can cause lack of consciousness. This is a reaction to the doughnut/candy bar meal. The student pilot who does not eat because of possible airsickness is endangering himself if flying solo. High sugar meals cause the pancreas to create excess insulin. Insulin allows the body to use sugar. Too much insulin and deplete sugar to such a low level as to incapacitate the body and mind. Adding caffeine, alcohol and nicotine acerbates the problem. Flying should be preceded by a balanced meal. Neuronutriments are the vitamins and minerals that the body can change into neurotransmitters. Trace minerals such as potassium, zinc, iron, and chromium are essential to control the body's sugar burning process. The more balanced our meals the better will be our mental functioning and memory.