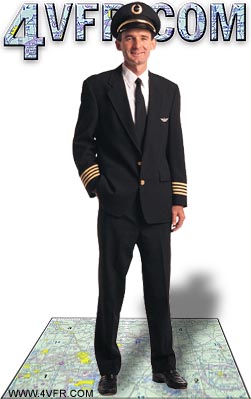 We Help You Pass
Our free online study guide really works. You can study for your FAA private pilot ground school exam right now. For more info about the 4VFR.COM project, click here. You can find a daily update log here.

Live ATC Audio Streams
Tune into live air traffic control frequencies from North America. This feature requires Real player. Start listening to ATC now!

Reference Library
Our glossary lists and databases have grown quickly. I am working to create an on-line reference library to tie together all the loose ends. You can check out what is currently available in the library

FAA Practice Exam - New!
Introducing our newly enhanced practice exam. Now with figures!. Take a test a day for a week, and I guarantee you will do better on your exam. Get Started Now!

Show your support for 4VFR.COM - Link us. Bookmark us. Tell your mother about us. Press CTRL-D to bookmark this site now!. Check out one of our proposed T-Shirt Designs.

Feature Article: Military Instruction

Instruction that uses the stair-step approach is predicated on the absence of surprises. A military preflight can take hours. In my own program I seldom take less than 30 minutes and early on the discussion and planning may take over an hour. I go through what we will do in detail, not just the flying but the checklists to be used, the radio procedure for both departure and return. The student who knows what is coming and what to expect is under far less stress than the one who gets strapped into the seat while heading into the unknown.

Each preflight should include some small advancement in systems operation. Perhaps just a moments review or remark as to what the student should look for and be aware of can be sufficient. Over time such contributions will develop judgment and awareness of possible malfunctions. Knowing what problems can ground an aircraft is essential knowledge. One of the least covered areas of advanced instruction is exploring the outer limits of aircraft performance and configuration. An hour spent in precision flight as to heading, altitude and airspeed can restore confidence. Steep turns won't hurt either if precise heading and altitude recoveries are included.