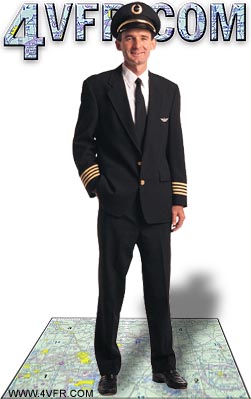 We Help You Pass
Our free online study guide really works. You can study for your FAA private pilot ground school exam right now. For more info about the 4VFR.COM project, click here. You can find a daily update log here.

Live ATC Audio Streams
Tune into live air traffic control frequencies from North America. This feature requires Real player. Start listening to ATC now!

Reference Library
Our glossary lists and databases have grown quickly. I am working to create an on-line reference library to tie together all the loose ends. You can check out what is currently available in the library

FAA Practice Exam - New!
Introducing our newly enhanced practice exam. Now with figures!. Take a test a day for a week, and I guarantee you will do better on your exam. Get Started Now!

Show your support for 4VFR.COM - Link us. Bookmark us. Tell your mother about us. Press CTRL-D to bookmark this site now!. Check out one of our proposed T-Shirt Designs.

Feature Article: What's New

With so much history in the past I would like to take you into the future:
I am most proud of my older son who has been the prime project developer of a system that is used world wide by the U.S. and its allies for complete coordination of their naval and military activities. It is now coming onto the civil market as ELVIS.
ELVIS demonstration can be found at:
http://elvis.inri.com:9002
You must use Netscape as your browser. When Command Center comes up scroll down and Enter as gwhitt and again for password Click on LOGIN
As a demo many of its features are inoperative. It is important that you realize that all the data, names, and positions of units and ships is just make believe. This is a demo of what is coming.
Suggest that you click on the screen to the far right. It is of South Florida and nearby islands. Speed of Modem determines how fast maps appear. If you click on something that you don't want, just click on the word BACK near the top left and it will move you back one screen.
The little world on the bottom left allows you to move the map in any direction. The Map Option box at the top left (you may need to scroll up and down.) Gives you some choices of what to do.

Scroll down; Click on X4 to enlarge;Scroll up ;Click on Map Options; Click on Zoom

Click on any point as the top left of a new map and another point as the bottom right corner of the new map. This will give you a higher resolution map of a smaller area.

Click Map Options; Click on center; Pick any point of the new map that you want in the center of your screen and click on it.

Click on Map Options
Click on Bearing/Range
Click on any two points on the map and you will get a bearing/range chart as well as a line on the map. Have fun. Play around with the other maps. You are now at the very cutting edge of progress.
This is just the beginning of the next generation of navigation. With transmitting GPS units you can be within four seconds of real time position and movement of the sender. I plan to blame ELVIS on my wife. Now I know why I have a trasmitting ELVIS on my leg.