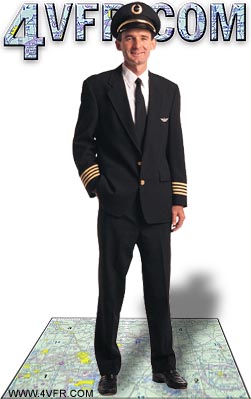 We Help You Pass
Our free online study guide really works. You can study for your FAA private pilot ground school exam right now. For more info about the 4VFR.COM project, click here. You can find a daily update log here.

Live ATC Audio Streams
Tune into live air traffic control frequencies from North America. This feature requires Real player. Start listening to ATC now!

Reference Library
Our glossary lists and databases have grown quickly. I am working to create an on-line reference library to tie together all the loose ends. You can check out what is currently available in the library

FAA Practice Exam - New!
Introducing our newly enhanced practice exam. Now with figures!. Take a test a day for a week, and I guarantee you will do better on your exam. Get Started Now!

Show your support for 4VFR.COM - Link us. Bookmark us. Tell your mother about us. Press CTRL-D to bookmark this site now!. Check out one of our proposed T-Shirt Designs.

Feature Article: Passenger Boarding Information

Welcome aboard this non-commercial flight in the vicinity of San Francisco. We will be departing shortly and with any luck at all will continue to be airborne until our return to our departure point. You will be instructed to fasten your seat belt and you are expected to obey the aircraft captain in every other instance. Please make sure your seatbelt is on and that your seat is securely fastened to the fuselage. At this time, any personal items should be stowed securely in the trunk of your car, since there is no overhead compartment or space beneath your seat, to speak of. Please turn off all portable electronic devices, and keep them off until we have landed safely, or for the duration of the flight, whichever comes first. Smoking is not permitted inside the cabin; smoking outside the cabin should be reported to the captain immediately. There is no beverage service during the flight. If you need to make a bathroom stop, do so prior to our departure. In-flight entertainment will consist of watching the pilot's desperate struggle to control the plane. We'll be flying at an altitude deemed, in the opinion of the pilot, to be safe and most likely to avoid other aircraft. This is in theory; but, should the plane's altitude drop precipitously, please check to ensure that the pilot is awake and in an upright position. As we prepare for takeoff, please take this opportunity to locate the exit nearest you and, if you have any sense at all, avail yourself of it before it's too late. In a moment, the pilot will begin handing out the release forms in preparation for takeoff. Be assured that in all his time aloft, the pilot has never lost a passenger; however, your results may vary. Now sit back, relax, and enjoy your flight.
Related Links
Featured Articles
Student Kudos
"I have use this web site to study for my private pilot exam. I am 50 years old and started with flying lessons May 01 and solo-ed 6/27/01 but for some reason there is very little ground instruction so I have had to learn on my own and this site has been a great instructor!! Thank you"
- donna isom