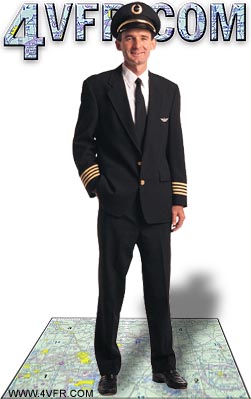 We Help You Pass
Our free online study guide really works. You can study for your FAA private pilot ground school exam right now. For more info about the 4VFR.COM project, click here. You can find a daily update log here.

Live ATC Audio Streams
Tune into live air traffic control frequencies from North America. This feature requires Real player. Start listening to ATC now!

Reference Library
Our glossary lists and databases have grown quickly. I am working to create an on-line reference library to tie together all the loose ends. You can check out what is currently available in the library

FAA Practice Exam - New!
Introducing our newly enhanced practice exam. Now with figures!. Take a test a day for a week, and I guarantee you will do better on your exam. Get Started Now!

Show your support for 4VFR.COM - Link us. Bookmark us. Tell your mother about us. Press CTRL-D to bookmark this site now!. Check out one of our proposed T-Shirt Designs.

Feature Article: Special Use Airspace (SUA)

Not on charts but often mentioned by VOR/Tower broadcasts. Locally by Livermore ATIS to warn of National Guard firing range near Danville/San Ramon border as being "hot". Best way to avoid incursion problem is to file IFR.

An IFR clearance that transits a SUA does not allow flight through that airspace unless 'cleared as filed' is a part of the clearance. If the airspace should become 'hot' while enroute you will be issued an amended clearance.