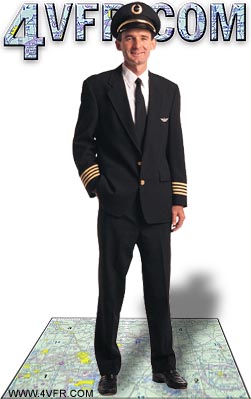 We Help You Pass
Our free online study guide really works. You can study for your FAA private pilot ground school exam right now. For more info about the 4VFR.COM project, click here. You can find a daily update log here.

Live ATC Audio Streams
Tune into live air traffic control frequencies from North America. This feature requires Real player. Start listening to ATC now!

Reference Library
Our glossary lists and databases have grown quickly. I am working to create an on-line reference library to tie together all the loose ends. You can check out what is currently available in the library

FAA Practice Exam - New!
Introducing our newly enhanced practice exam. Now with figures!. Take a test a day for a week, and I guarantee you will do better on your exam. Get Started Now!

Show your support for 4VFR.COM - Link us. Bookmark us. Tell your mother about us. Press CTRL-D to bookmark this site now!. Check out one of our proposed T-Shirt Designs.

Feature Article: Stress

Human performance is mitigated by physical stresses such as fatigue, fitness, sleep, food, age and illness. Psychological stressors such as personal family problems, work load, situational awareness. External dynamic stresses due to weather, turbulence, aircraft performance and time factors. Stress is the result of events that cause preoccupation reducing external awareness and making activities subject to distraction. Stress causes the taking of risks that would otherwise be unacceptable.

Stress in moderate amounts is both necessary and desirable when flying. It prevents boredom and inhibits fatigue. The other extreme of stress leads to panic and impaired capability. Accidents happen when flying requirements exceed capability. Time in the air will decrease capability and lower the stress/panic threshold. 69% of accidents occur in the landing phase of flight operations. This is when time in the air is greatest and the stress/panic threshold lowest.

Whenever excessive tension exists, the ability to make considered judgments deteriorates. The concepts of what is best or safest become an emotional decision based more on fears or concerns rather than realities. Under tension the ability to make correct decisions deteriorates and compounds both the tension and the reliability of the selected solution. The pilot MUST recognize areas of tension and undertake an instructional program to raise a proficiency level to where competence reduces tension. Failure to resolve any tension-producing problem will eventually lead to an unforeseen situation where a decision will produce an accident. The instructional program must expose the student to those tension producing situations before the student goes solo. Stress exposure is a form of stress inoculation.

The most common tension producer is through use of the radio. At a given point in airspace the student knows that he should be prepared to say a given sequence of communication facts. Where to start talking, what to say, in what sequence, and the fear of the unknown ATC create tension. After being lost or disoriented the most dramatic tension producer is x-wind landings, next I would place unfamiliar airports, especially if they are small, followed closely by radio procedure uncertainty. Night flight over unfamiliar terrain certainly raises cockpit temperature. Turbulence produces tension in the best of us as does proximity to the ground. All of these tension producers can be reduced or eliminated by gradual programmed exposure. Stress reduction, according to one expert, can be achieved by only landing at airports and peeing every chance you get.