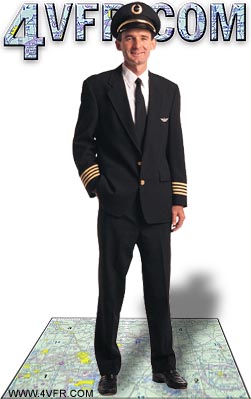 We Help You Pass
Our free online study guide really works. You can study for your FAA private pilot ground school exam right now. For more info about the 4VFR.COM project, click here. You can find a daily update log here.

Live ATC Audio Streams
Tune into live air traffic control frequencies from North America. This feature requires Real player. Start listening to ATC now!

Reference Library
Our glossary lists and databases have grown quickly. I am working to create an on-line reference library to tie together all the loose ends. You can check out what is currently available in the library

FAA Practice Exam - New!
Introducing our newly enhanced practice exam. Now with figures!. Take a test a day for a week, and I guarantee you will do better on your exam. Get Started Now!

Show your support for 4VFR.COM - Link us. Bookmark us. Tell your mother about us. Press CTRL-D to bookmark this site now!. Check out one of our proposed T-Shirt Designs.

Feature Article: Soft-field Takeoff

(Introduction)
The situation is a takeoff area of unlimited length but having a soft surface the nature of which would prevent acceleration of an aircraft to takeoff speed without the application of special techniques. The intention is to make a running start on to the runway with 10 degrees of flaps and the yoke held full back. Power is smoothly applied so as to give sufficient elevator power to raise and keep the nose wheel off the ground. The aircraft is allowed to lift off at a minimum flying speed that can be maintained and accelerated only in ground effect. The aircraft is flown in ground effect until climb speed is attained. At 200' AGL the flaps are removed and normal climb maintained. So much for procedure.

Piloting techniques require that the elbow and arm be locked so that over rotation does not occur with sudden power application. Coordinated power and yoke is required to attain the required/desired smoothness. As the aircraft accelerates the pitch attitude is increased to attain lift off. Anticipatory rudder application is very important during this entire takeoff to maintain directional control.

Once in the air you will be behind the power curve. This means that since you have no more power available you must lower the nose to increase the speed. Unless this speed increase is carefully crafted by combining close flight to the ground and a gradual lowering of the nose an unintentional ground contact is likely. The closer you are able to fly to the ground while avoiding contact the sooner the aircraft will attain the flying speed required for climb. Most common mistake is failing to remove flaps at 200'.