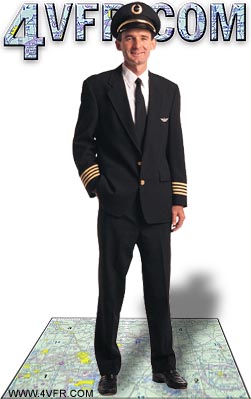 We Help You Pass
Our free online study guide really works. You can study for your FAA private pilot ground school exam right now. For more info about the 4VFR.COM project, click here. You can find a daily update log here.

Live ATC Audio Streams
Tune into live air traffic control frequencies from North America. This feature requires Real player. Start listening to ATC now!

Reference Library
Our glossary lists and databases have grown quickly. I am working to create an on-line reference library to tie together all the loose ends. You can check out what is currently available in the library

FAA Practice Exam - New!
Introducing our newly enhanced practice exam. Now with figures!. Take a test a day for a week, and I guarantee you will do better on your exam. Get Started Now!

Show your support for 4VFR.COM - Link us. Bookmark us. Tell your mother about us. Press CTRL-D to bookmark this site now!. Check out one of our proposed T-Shirt Designs.

Feature Article: Keys For Successful Learning

1. Time of year
Summer flying gives longer days but does not provide the most desirable range of experience. Aircraft are more available in the late fall and winter. Darkness in early morning and early evening is a problem. Learning to fly during the worst weather periods is the best way to maintain your attention to the vagaries that affect flying. Learn in the fall or winter; enjoy in the summer.

2. Schedule
You should not even consider learning to fly unless you can allocate at least two or three flying periods a week. Each period should include travel time and two scheduled flight hours. Actual engine time will be about one hour + 15 minutes. Two hours of study time must be planned for every hour of flying.

3. Finances
Do not begin flying until money is set aside just for flying. The first twenty hours of learning to fly will be the most concentrated cash-outflow you will face unless you buy an airplane.

4. Weight
If our weight requires the use of a C-172 as a trainer the cost per flight hour will be more. The increased cost is somewhat offset by the time saved meeting cross-country requirements and enroute time to local airports.

5. Ground School
There is no reason that a person should not be able to self-study ground school with about 3-5 hours of tutoring. I do not charge for such time.

6. Preparation
Don't fly if you are not prepared for a lesson. You will get the most bang for your bucks by being prepared. Even the best instruction cannot fully compensate for lack of preparation.