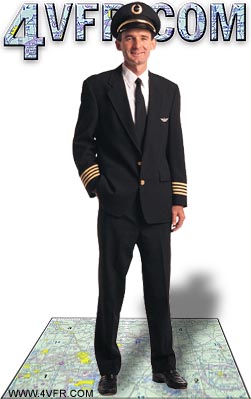 We Help You Pass
Our free online study guide really works. You can study for your FAA private pilot ground school exam right now. For more info about the 4VFR.COM project, click here. You can find a daily update log here.

Live ATC Audio Streams
Tune into live air traffic control frequencies from North America. This feature requires Real player. Start listening to ATC now!

Reference Library
Our glossary lists and databases have grown quickly. I am working to create an on-line reference library to tie together all the loose ends. You can check out what is currently available in the library

FAA Practice Exam - New!
Introducing our newly enhanced practice exam. Now with figures!. Take a test a day for a week, and I guarantee you will do better on your exam. Get Started Now!

Show your support for 4VFR.COM - Link us. Bookmark us. Tell your mother about us. Press CTRL-D to bookmark this site now!. Check out one of our proposed T-Shirt Designs.

Feature Article: Fitting The Hood

The hood should be fitted prior to engine start. Note that the attitude indicator has both a wings level and a level index mark at its top. The 10, 20, and 30 degree bank marks have been pointed out during Dutch-rolls and banks. A plane will not turn if the wings are level. This means that whenever the heading indicator is fixed on a heading the plane is not turning and wings can be considered level. Knowing this will enable you to perform even stalls under the hood. When the attitude indicator is at level, heading will be constant. Confirm this with the heading indicator.

The turn coordinator has the ability to show both the direction of the turn and markings that index the 2 minute standard rate turn. The vertical speed indicator will either indicate false or excessive movement under abrupt control input and may have up to a 12 second lag. The altimeter also may lag. The accuracy of the instruments is proportional to the smoothness of any change. The use of sound indexes acquired from VFR flight will help clue you in on airspeeds and changes.