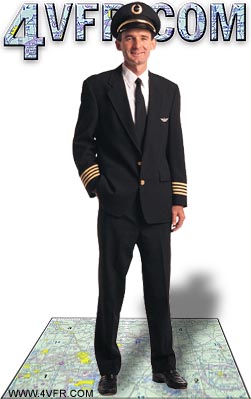 We Help You Pass
Our free online study guide really works. You can study for your FAA private pilot ground school exam right now. For more info about the 4VFR.COM project, click here. You can find a daily update log here.

Live ATC Audio Streams
Tune into live air traffic control frequencies from North America. This feature requires Real player. Start listening to ATC now!

Reference Library
Our glossary lists and databases have grown quickly. I am working to create an on-line reference library to tie together all the loose ends. You can check out what is currently available in the library

FAA Practice Exam - New!
Introducing our newly enhanced practice exam. Now with figures!. Take a test a day for a week, and I guarantee you will do better on your exam. Get Started Now!

Show your support for 4VFR.COM - Link us. Bookmark us. Tell your mother about us. Press CTRL-D to bookmark this site now!. Check out one of our proposed T-Shirt Designs.

Feature Article: My Kind of Student

I want a student who responds, enjoys, and pays attention. I enjoy sharing my love of flying with someone. I often share too much, try too hard, and overwhelm the student. I don't want the student to be just a well for me to fill. I try to augment every mistake or success, to an event-mistake or event-success in my career, with a brief story. Stories, while time consuming, are the cement of memory. The story is a sharing of the joy-spirit of flying. I want a student who is enthusiastic, who laughs at my old jokes, and who challenges what I say until I can back it up by an experience or text.

I want a left-handed student. Flying is the only area other than being a first baseman, batter, or pitcher where lefties start with an advantage. About 15% of the population are so blessed. A higher proportion of pilots seems to be left-handed. Flying does not require the specialization of fine motor skills. That field is left to right-handers.

Side note:
By the second year, hand dominance appears. Aircraft are equipped to do things equally well both left and right but American aircraft do things easier to the left. The rest of the world is right handed from scissors, tools, guns, phones, serrated knives, power mowers, binders, desks, keyboards, screws, and knobs. On average, right-handers do live eight months longer than left-handers. Average age difference 66 years to 75 years. Life is not fair.